PARENT POST 2/21/20
Posted February 21, 2020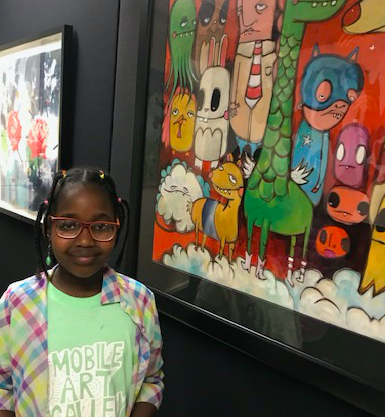 MESSAGE FROM THE PRINCIPAL
Happy Friday Cory Community!

We want to thank all the families who attended Art Night and the PTA for funding this joyful community evening. I would like to send a special thank you to the parents who volunteered their time, the student docent's, Christine Vongunden, and Angela Alexander for their preparation and organization of a wonderful evening.
I would like to highlight the 3rd grade team this week for strategically planning intentional opportunities for students to navigate different perspectives to form an opinion. In 3rd grade's current literacy unit, we are studying how humans have intervened to help wolf populations return to Yellowstone National Park. As part of this study, we explore the issue from two different perspectives: ranchers who do not want the wolves to return because the wolves will hurt their cattle and sheep and ecologists who believe reintroducing the wolves will help restore balance to elk and deer populations. The 3rd grade teachers have chosen to extend this unit to include how humans have intervened to both control and reintroduce animal populations throughout the world.

To kick off this portion of the unit, we brought in two guest speakers both of whom want to control the geese population in Denver City Parks. While both sides agree the geese population is too large for the parks, they disagree on how to best control the population. We heard from the City who shared its opinion as to why culling the geese was a necessary measure, and we heard from Canada Geese Protection Colorado who believes culling the geese is not the best way to control the goose population. We will continue to research the issue in class. Then, the students will form an opinion on whether or not the culling of geese should continue. Once they form their opinion they will learn to write an opinion essay to support their stance. We will end the study by sharing our opinions with both sides and debating the issue in class. You can see the Depredation Permit from CGPC here.


The final part of our extension on how humans have intervened to control and reintroduce animal populations throughout the world will be for students to research how humans have intervened to reintroduce other species of endangered animals. The students will complete a research project on the reintroduction of the species they choose and form an opinion as to whether or not the reintroduction was/is beneficial or harmful to the area. We hope you enjoyed learning about one of the many ways we extend our units to make them richer and more relevant to our unique Cory students.

Have a wonderful weekend!
Best,

Joan Wieser
Joan_Wieser@dpsk12.org
Principal

MARK YOUR CALENDAR
PICTURE DAY: TUESDAY, 3/3
5TH GRADE GROUP PIC: TUESDAY, 3/3, PROMPTLY AT 9 A.M.
STOCK THE CELLAR: THURSDAY, 3/19, 6:30 PM – 9:30 PM
CMAS TESTING GRADES 3-5: April 8th-17th. Please make sure that students are back from break on April 7th for review. This schedule may change, but will communicate any changes.
CORY AUCTION: 4/24/20, 6PM
CONCERT ON THE GREEN – 5/29
---
Cut off time for early release is 3pm.
Cut off time for changes in pick-up is 2pm.
There is no adult supervision before 8:30am. Students should not be dropped off before 8:30am.
School dismisses at 3:30pm. All students should be picked up no later than 3:45pm.
Homework Policy at Cory- When a student is absent from school for 1-2 days, there will be no personalized homework sent home.
---

PICTURE DAY IS COMING
These will be classroom and the yearly 5th grade panoramic group picture. The 5th grade group picture will take place promptly at 9 a.m. You will have an opportunity for individual pictures as well. Students must have a completed envelope or online order receipt to have an individual photo taken. Not all studesnts will be individually photographed.




---
BOX TOPS
Cory Student Council is now in charge of collecting box tops and utilizing the funds for Student Council directed events and activities. Please support their efforts by bringing in any box tops you have collected this coming Monday or Tuesday, February 24th or 25th. Collection containers are located in all homerooms and the Main Office.
Box Tops Go Digital
Download Box Tops for Education app
Create an account
Select Cory Elementary as your school
Buy Box Tops products
Scan your receipt within 14 days
Earn money directly to your school
Continue to clip traditional box tops during the transition to digital
Using the app is easy, fun and your children will love seeing their purchases raise money for their school!
CORY WORKS OUT TO SUPPORT OUR SCHOOL
Calling the Cory community! Our biggest workout yet! "Cory Works out to support our school", is headed to Compass Fitness Tuesday March 3rd from 6:30-7:30pm. Grab your friends, or significant others, come get your sweat on and support Cory.

There will be 10 available FREE spots for childcare, so bring the kiddo's. Please note on the sign up genius you want childcare. First 10 will receive a spot. The workout is $20 per person and goes directly to our school. There is room for 100 people, so don't delay, sign up now!! We have also extended this workout free for any and all staff!
SADDLE UP COUGARS AND COWBOYS
Auction tickets are available for purchase! VIP seats and tables are going fast, so don't delay! Your ticket to Cougars & Cowboys includes mingling with the Cory community, grub from a delicious new caterer, an adult beverage and line dancing at the cable center saloon!

Early bird tickets are only $50 each, but prices go up to $75 on March 20th or $100 day of!

BUY TICKETS

WHEN
Friday, April 24
6:00 PM to 10:30 PM
DU's Cable Center Saloon

HAVE QUESTIONS?
Contact Naurin Gilger or Danielle Gooden at coryauctionteam@gmail.com
WET YOUR WHISTLE AT STOCK THE CELLAR
Don't miss our annual stock the cellar event at the neighborhood saloon Brightmarten on Thursday, March 19! What a great excuse for a GNO, date night or evening among good friends. Visit http://evite.me/rqEhqUnPyR to RSVP

"WANTED" WINE & WHISKEY
Bring a bottle of wine or whiskey (or two) valued at a minimum of $25 or MORE! All bottles received will be auctioned off for Cory on April 24.

SALOON & SPECIFICS
Brightmarten Restaurant & Bar
730 S University Blvd, Denver
Thu, March 19th from 6:30 pm to 9:30 pm (Adults Only)
Appetizers and Dessert Provided
Happy Hour Drink Specials

HAVE QUESTIONS?
Contact Travis Wanger or Rachel Dickerson at traviswanger@hotmail.com or rachelpinon@gmail.com
---
---
COMMUNITY NEWS