GT/HGT Integrated Cluster Model
Gifted and Talented and Highly Gifted & Talented (GT/HGT)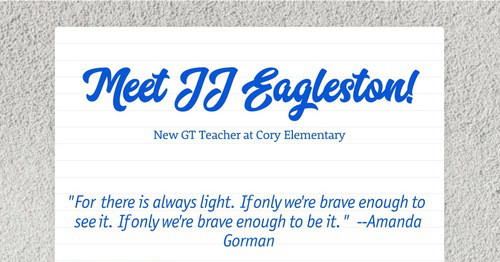 What does your school do to program for GT students, include academic, social, and emotional needs.
Cory Elementary provides an integrated magnet program for gifted and talented students in Denver Public Schools. An integrated model means that identified gifted and talented students work alongside students with a broad range of abilities. Cory groups students by strength-area in core instructional pods in order to provide appropriate pacing, challenge, and complexity. Every classroom teacher uses both differentiated tasks and small-group instruction to meet gifted students' needs. Many of the teachers are already qualified gifted and talented program teachers, while the remaining teachers are in the process of completing DPS's gifted and talented certification. Teachers understand the unique social and emotional needs of gifted students. Classroom practices include an emphasis on strong relationships, community building, and the use of mindfulness. Teachers model specific behaviors and coach students individually to meet the affective goals established in their advanced learning plans.
To provide additional support and differentiation, Cory's gifted teacher works with pullout groups on project-based learning and advanced literacy projects. For high ability math students, the gifted teacher works in the 4th and 5th grade compacted math classrooms to teach advanced problem solving strategies. The gifted teacher and school volunteers also support enrichment programs (e.g. Spelling Bee, Destination Imagination, and Geography Bee) outside of school hours or during lunch.
Explain how your school will use consults, trainings, peer supports for classroom teachers to provide appropriate instruction for GT learners.
The primary focus for semester 1 of 2019-20 is the use of twice-weekly pullout enrichment for students in grades 2 through 5. The gifted teacher, Anne Witwer, works with each grade-level team to align the choice of units with classroom curriculum, to build on student strengths, and to target student needs. Additionally, the gifted teacher consults with teachers, helping to coach them on ALP creation and best practices for G/T students. As needed, the gifted teacher meets with parents one-on-one to help them better understand DPS policies and best practices and to understand the identification process for kids in the district. The gifted teacher meets regularly with school administration to discuss new ideas and best practices for students and all stakeholders in the community.
Document how your school will engage families of GT learners and support a deeper understanding of GT needs throughout the school and community.
In conjunction with the school's gifted specialist, teachers obtain input from both parents and students to establish meaningful advanced learning plan goals. Teachers present drafts of the ALPs at fall conferences for additional consultation and approval.
Cory works collaboratively with parents of gifted learners on CSC because many of the parents on the committee are parents of identified HGT/GT learners at the school. Cory is a magnet HGT site and parents are deeply involved with the strategies and programming being refined yearly, including this year at the school. Parents have input into the model and programming management at Cory. The school also offers additional opportunities for engagement through parent nights (science, art/music, family literacy, etc.); and participation is high.
What will be the main area of focus to further develop GT programming for this school year?
One area of focus this year is increased rigor and engagement through both targeted academics and project-based learning. Fifth graders, for example, will complete an advanced essay writing unit, as well as an integrated, service-learning project on homelessness. Fourth graders are focused on developing strategies for high-level conversation on advanced texts, and will also complete a unit on Charles Darwin using The Evolution of Calpurnia Tate as an anchor text. Third graders will be designing their own food trucks; taking the life cycles science unit to new depth with a study of plagues; and completing a narrative writing project based on a wordless book called The Flower Man. Second graders will engage in both science and literacy skills with a study of The Prince of the Pond, and they will complete a project later in the year related to their study of communities. Academic and project-based learning topics may evolve through the year in response to student interests and classroom teacher input.
Depending on teacher interest, the gifted teacher may complete 6-week co-planning and co-teaching cycles at different grade levels.