History
The Building/The Architect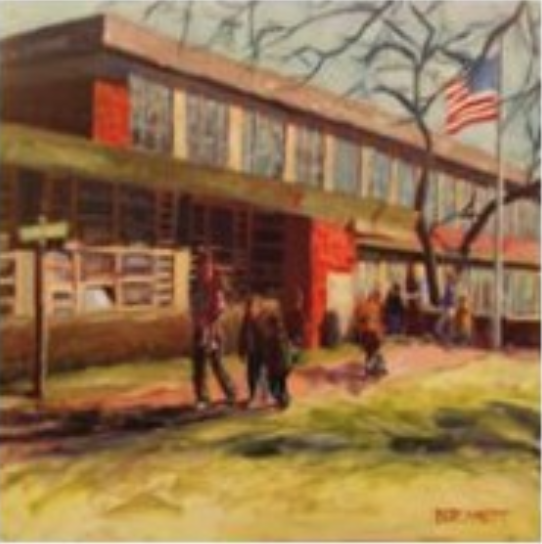 Step back and take a look. What you will see is the architecture of a man who was known as Denver's premiere Usonian architect. The Usonian style is the influence of one man: Frank Lloyd Wright. Victor Hornbein, a Denver native, is responsible for some 36 houses and 80 public projects, primarily in Colorado. One of Hornbein's most recognized projects is the Conservatory at the Denver Botanic Gardens. He designed the building during the time he worked with Ed White. He was also commissioned to design schools, one of which was Cory Elementary. However, the Ross-Broadway Library was Hornbein's favorite design. Hornbein's interest in architecture began when he was young. He had his first architectural job before graduating from East High School in 1930. Cory Elementary is listed as a historic landmark.
Our Namesake
According to the Cory-Merrill Neighborhood Association, in the late 1940s, a man named Mr. Armstrong (who lived on Steele Street) donated his farm land to Denver Public Schools to replace the aging Coronado School. The district then built Cory Elementary and Merrill Junior High. Both schools were named for influential educators in Denver Public Schools – John J. Cory and Louise A. Merrill. John Jerome Cory (1883-1945) was a native of Denver. He attended Edison and Alcott Elementary schools before graduating from North High School in 1901. Mr. Cory went on to graduate from Colorado School of Mines in 1905, and then he earned his M.A. degree in Education in 1925 from Teachers College, Columbia University.
In 1911, Mr. Cory became a teacher at West High School, and then went on military leave to serve in World War I. After the war, he was selected as principal of South High School, where he served for twenty years. In May of 1939, Mr. Cory was chosen to be Assistant Superintendent in charge of junior and senior high schools at the Emily Griffith Opportunity School. Mr. John Jerome Cory was one of Denver's most loved and respected educators.
The School Within
In 1970, the U.S. District Court ordered busing for racial balancing within schools, which meant students spent considerable time riding school busses. During this time, Cory was paired with Barrett Elementary. Students attended Barrett for their primary years and Cory for their intermediate years. Desegregation within the Denver Public Schools system was lifted in 1995. At this time, Cory became a neighborhood K-5 school.
Cory is a magnet site for highly gifted and talented (HGT) students. Every teacher at Cory has been trained in highly gifted education, and the HGT students are integrated into each classroom. Our approach is what makes Cory unique: each classroom contains a wonderful spectrum of learners, providing an enriched learning environment for all students. This approach is one factor that designates Cory Elementary as a "Distinguished" Denver Public School serving neighborhood, choice and highly gifted children.