PARENT POST 2/14/20
Posted February 14, 2020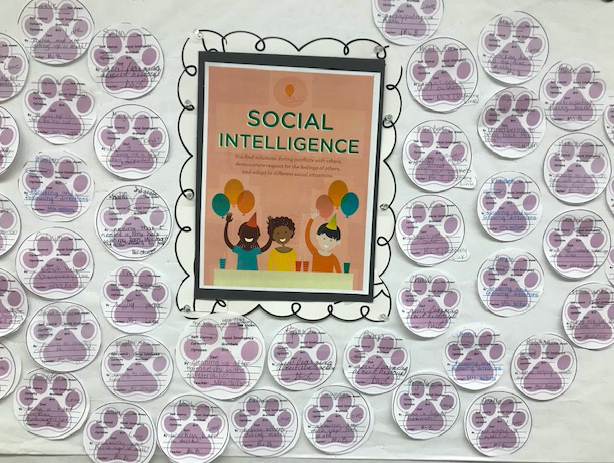 MESSAGE FROM THE PRINCIPAL
Happy Friday Cory Community!

The Cory Crew has been hard at work designing lessons to inspire and challenge students. This week the classrooms were filled with challenge, exploration and celebrations. Students and staff were celebrating love and kindness yesterday and building student culture through a fun school activity with crazy clothes. Thank you to the student council for organizing this opportunity.

February is an exciting month at school. We are focusing on the character trait of SOCIAL INTELLEGENCE. We are so proud of our Cory Cougars for showcasing this important character trait.


I want to highlight 2nd grade instruction this week to celebrate the intentional instructional moves planned to support student's access to content and agency. Students were engaged with tasks that allow them to grapple, opportunities for discussion and collaboration to support students drawing from multiple perspectives, and self-reflection from those discussions. As we continue to plan our units, we really want to focus on how to build in productive struggle, targeted feedback and opportunities for self-reflection/goal setting. Thank you to the 2nd grade team for championing our goals within each lesson and unit plan.

Research has proven that when parents are involved at school, students gain higher grades, test scores, better attendance, more completed homework, more positive attitudes and behavior! In addition to classroom volunteering, please see the additional opportunities that are coming up for parental involvement at Cory:
Monthly PTA Meetings
Monthly CSC Meetings
Art Night
Math Morning
Concert on the Green
Have a wonderful long weekend!
Best,

Joan Wieser
Joan_Wieser@dpsk12.org
Principal

MARK YOUR CALENDAR
NO SCHOOL: FRIDAY, 2/14 & MONDAY, 2/17
ELD/INTERVENTION READING EVENING: 2/19, 3:45 – 5:15 PM (NOTE TIME CHANGE)
ART NIGHT: 2/19, 5:30 PM
PICTURE DAY: TUESDAY, 3/3
5TH GRADE GROUP PIC: TUESDAY, 3/3
STOCK THE CELLAR: THURSDAY, 3/19, 6:30 PM – 9:30 PM
CMAS TESTING GRADES 3-5: April 8th-17th. Please make sure that students are back from break on April 7th for review. This schedule may change, but will communicate any changes.
CORY AUCTION: 4/24/20, 6PM
CONCERT ON THE GREEN – 5/29
---

ART NIGHT 2020
Please join us for Art Night, Wednesday, February 19th from 5:30-7:00pm!

We need more volunteers to sign up for 1 to 3 hour shifts to make Art Night successful. There are also slots available to help set up the Cherry Creek Mobile Art Gallery on February 10th, 11th and 12th.

Pizza will be provided by Cory PTA. We invite you to bring the whole family for a joyful evening of artistic exploration of the 5 senses! We'll make music with professional chorales, weave on hula hoops, trace self portraits and create aromatic paintings. The Cherry Creek Mobile Art Gallery (a new, 2nd version) is back, February 11th-25th, so 5th grade docents will lead families on a scavenger hunt through the displays.

WE NEED VOLUNTEERS to make Art Night 2020 successful – Please sign up here!

WARM UP WITH A GOOD BOOK!
Let's celebrate the love of reading with our ELD and Reading Intervention classes. Stop by the library before Art Night to see your child's book recommendation. Read with your child, make a bookmark, and enter a drawing for a free book. We will also demonstrate how to use Overdrive to access audio books at home. Art Night begins at 5:30 pm.
Where: Cory Library
When: Wednesday, February 19 from 3:45 PM – 5:15 PM (PLEASE NOTE THE TIME CHANGE)
Hosted by: Ms. Butte, Ms. Sturges & Ms. Willson

PICTURE DAY IS COMING
These will be class and 5th grade group pictures. You will have an opportunity for individual pictures as well. Students must have a completed envelope or online order receipt to have an individual photo taken. Not all studesnts will be individually photographed.
---
CORY DINES OUT
Our next dine out is next week! Fire on the Mountain on 300 S. Logan St. #102 is hosting Cory Elementary and donating 10% of their sales all day long! Mark your calendars and order for take out, or dine at their cozy restaurant from 11-close. Known for their awesome wings, they have a delicious menu of other offerings as well! Looking forward to this new venue and we hope you can make it!! As always, thank you for supporting Cory PTA!
COUGARS AND COWBOYS AUCTION TICKETS
All tickets, VIP tables and seating are available for purchase now! A ticket to Cougars & Cowboys includes mingling with the Cory community, grub from a delicious new caterer, an adult beverage and line dancing at the cable center saloon!

Don't delay early bird tickets are only $50 each, but prices go up to $75 each on March 20th or $100 day of!

TICKETS
Available at 10:00 am Friday

WHEN
Friday, April 24
6:00 PM to 10:30 PM
DU's Cable Center Saloon

HAVE QUESTIONS?
Contact Naurin Gilger or Danielle Gooden at coryauctionteam@gmail.com

COMMUNITY CHICKEN VOLUNTEER TRAINING

---

MERRILL MIDDLE NEWS

NO SCHOOL: 2/17 AND 2/18

JAGUAR JOURNAL

MERRILL STUDENT SHADOW DAYS AND PARENT TOURS
5th graders! Be sure to schedule your shadow day and parent tour at Merrill during the month of January. Experience a morning in the life of a Merrill 6th grader, learn all about Merrill has to offer and discover why it's quickly becoming the number one choice for middle school for Cory 5th graders!

Did you know that this year's Merrill 6th grade is 89% neighborhood kids? That's up 20% from the year before! What an amazing testament to the community supporting its local middle school and keeping kids and families together after elementary!

Click here to learn more and to schedule: http://merrill.dpsk12.org/prospective-students/



---
COMMUNITY NEWS
Hello Cory Community!
There is no time like the present to give to others. One of the groups often left out of this giving is animals. We are collecting donations of dog leashes, metal crates, harnesses, towels, blankets, dog food, puppy pads, dry food, canned food, and cash donations for an organization called Red Fern Animal Rescue. This rescue saves dogs from abandonment and neglect, advocates for animal welfare, and connects adopters with their ideal canine companion. Their website can be found here: https://redfernanimalrescue.org/. We can't wait to begin and thank you for your participation! Mae Swenson South High School Student