Parent Post 12/20/19
Posted January 10, 2020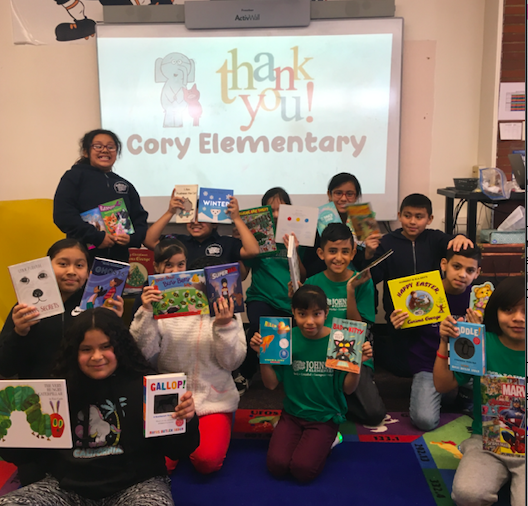 MESSAGE FROM THE PRINCIPAL
Dear Cory Families,
As we conclude 2019, and break for the winter holiday, I want to take a moment to express my heartfelt gratitude to all who help make Cory an amazing place to be. We are a community with many gifts and talents, which we share daily with one another and most important, our students. From the classroom, to our living room and all points in-between, our collective efforts to support the whole child are filled with passion, commitment and a willingness to make decisions that may be hard in the present, but will have a positive and lasting influence in the future for all.Parents, of course, are such a critical part of all we hope to accomplish on behalf of our Cory scholars. I am grateful to you for masterfully doing what I know firsthand is the hardest, most rewarding and joyous job of all. Thank you for entrusting us with your most precious gift. I am grateful to our wonderful, talented, creative, inquisitive, optimistic, resourceful and resilient students.

Third grade students had the opportunity to collect gently used books and provide them to a school that was in need. Through generous donations, the students were provided with a wonderful selection of books to students in DPS. Thank you to our 3rd grade students for learning about social intelligence and being community minded through their literacy unit.


In the spirit of this holiday season, I want to extend my thanks to all of you for everything that you do for our school. It is also during this time that I am reminded of my own good fortune to serve as the proud principal of Cory. I believe the faces of our children best express the true meaning of this holiday season. They radiate a sense of enthusiasm, hope and joy for life and the opportunities that await them. To the parents, staff and friends of the Cory community, please have a safe and joyous holiday season.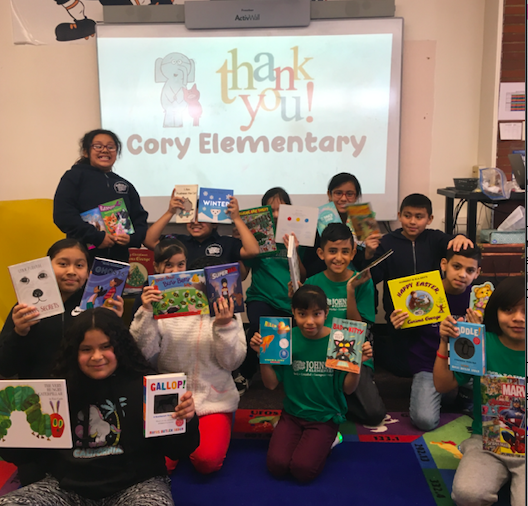 Best,

Joan Wieser
Principal

MARK YOUR CALENDAR
WINTER BREAK – NO SCHOOL: 12/23/19 – 01/06/20 (STUDENTS RETURN 01/07/20)
PTA HAPPY HOUR: 1/23/20, TIME AND LOCATION TBD

TRAFFIC SAFETY
I want to remind families the importance of following traffic laws. We are asking families and students to please cross the street using the cross walks at all times. There was a Merrill (former Cory) student that was hit by a car last week. We do not want to lose a life so please be aware of the crosswalk.

CRUISE INTO SUMMER WITH DENVER PUBLIC SCHOOLS!
Are you looking for fun and engaging experiences this Summer?! Well then cruise into Summer camps with Denver Public Schools – Extended Learning and Community Schools (ELCS). ELCS will be offering a variety of Summer camps that enhance, explore, and engage all students interests. While building new relationships with other friends and supportive camp staff. Who's ready to cruise into camp?! See our camp options below:

Discovery Link Summer Camp – Interested in a weekly summer program that offers multiple enriching themes and EXCITING FIELD TRIPS at various school-based sites across Denver? Then this camp is the experience you've been waiting for! Themes and field trips will differ depending on the site, to name some possibilities: Wonderful Water – Pirates Cove, STEM – Colorado Air and Space Museum, Superheroes – Jump Street, and Guided Discovery – Denver Zoo.

Enrichment Exploration Summer Camp – Are you looking for an eclectic variety of single subject offerings throughout the day?! Then the Enrichment Exploration Summer Camp is for you! This camp is a single subject a la carte Enrichment opportunity. Sign up for one to four blocks per week, featuring your favorite enrichment providers like Sticky Fingers, Art for Life Colorado, and Hero Sports just to name a few!

Specialty Summer Camps – ELCS is pleased to offer four specialized, one-month camps this year focusing entirely on content areas that advance student in Theatre, Technology, Art, and Sports. These camps will be partnering with reputable organizations throughout Denver, such as Colorado Ballet, Colorado Rockies, and the Children's Museum. If your student is looking to really dive into a single subject for the week or month, then this is the camp for them!

For more information and how to register* please visit our website by clicking here!

*Registration for all 2020 Summer camps will go live online Monday, January 6th at 8am

SCIENCE FAIR
Dear families, the science fair is coming to Cory January 30th and 31st. We know some families are looking for some academics to do over break; getting a jump start of Science Fair is a great way to practice reading, writing, math, and science during the break. If you don't have time over break, don't worry. You can also start on January 7th and still finish before the deadline. Please see the attachments or your child's Friday Folder for information, guidelines, and rubrics. Don't hesitate to contact your child's teacher or Sarah Clark (sarah_clark2@dpsk12.org) for more information.

Completing the Scientific Method
Science Fair Display Guidelines
Science Fair Poster Display Explanation
Science Fair Rubric
Cory Science Fair
Cory Science Fair judging is January 30th and community viewing of projects will be all day on the 31st. We hope you'll stop by to see this year's projects either with your child's class or at morning drop off.

In Class Presentations, will take place between January 22nd and January 29th. Your child's teacher will communicate class specific deadlines to you.

The same rubric will be used by the school wide judges and the district fair judges. This will allow children to make modifications to projects based on teacher and judge feedback prior to the district science fair.

Return the contract, which is really an intent to participate form, to your child's teacher or email to request more information. Your child will then bring home guidelines and a rubric to help you complete the project successfully.

Listed below are a couple websites to help generate ideas. Not all ideas on these websites meet the requirements for an inquiry project rather than a science demonstration. Most demonstrations can easily be turned into inquiry projects. Contact your child's teacher for other idea generating tools and/or websites.

https://www.sciencebuddies.org/

https://tinkerlab.com/science-projects/

https://www.education.com/science-fair/

https://climatekids.nasa.gov/science-fair/

The top 2 finishers from each grade level will be signed up to advance to the district Science Fair on February 8th at DU.

We hope your family will participate in this year's Science Fair!



---

SUPPORT CORY WHEN YOU SHOP

---

MERRILL MIDDLE NEWS

JAGUAR JOURNAL

MERRILL STUDENT SHADOW DAYS AND PARENT TOURS
5th graders! Be sure to schedule your shadow day and parent tour at Merrill during the months of November, December and January. Experience a morning in the life of a Merrill 6th grader, learn all about Merrill has to offer and discover why it's quickly becoming the number one choice for middle school for Cory 5th graders!

Did you know that this year's Merrill 6th grade is 89% neighborhood kids? That's up 20% from the year before! What an amazing testament to the community supporting its local middle school and keeping kids and families together after elementary!

Click here to learn more and to schedule: http://merrill.dpsk12.org/prospective-students/